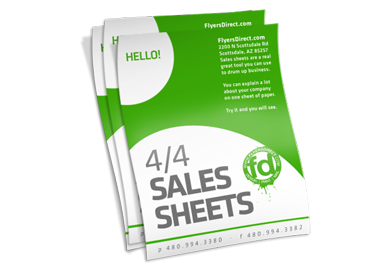 Premium 100# gloss text stock
Horizontal or vertical printing
Full bleed and photographic
Fast Turnaround
Flexible quantity options
Automated order processing and shipping
A good sales sheet is worth every cent invested in it, and so much more. Maximize your ROI by working with us to produce a sales sheet that really sells! Sales is all about letting the buyer know right up front what the product is and creating a perception that they must buy it. That's why real estate agents, manufacturers, restaurants and virtually any industry that performs face-to-face selling dedicates marketing budget to creating this vital tool. What separates one sales sheet from the other are solid, durable paper stock, eye-catching graphics and high-caliber printing, they tell the reader that you believe in quality and you sell quality. We specialize in printing and designing quality sales sheets with guaranteed rapid turn-around.
Canvas Size: 8.75 x 11.25
Minimum Resolution: 300 DPI
Color Format: CMYK
Build Black: 40C, 40M, 10Y, 100K
First create a new document and set it to the canvas size listed above. Your bleed area is 1/4th" from the edges. Keep all type within safe area.