4 x 9″ Rack Cards
Custom Rack Cards Printing in Tempe Arizona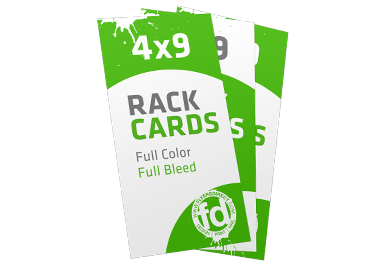 Premium 16 pt. Gloss Cover Stock (C2S)
Printed Full Color on BOTH sides
Horizontal or vertical printing
High Gloss UV (Ultra Varnish) coating on the front
Full bleed and photographic
Turnaround in two to three days
Durable, glossy UV Coating on the front
Flexible quantity options starting at 1000 pieces
Flyers Direct in Tempe is a premier digital printer that specializes in printing rack cards. If you need custom rack cards, contact our printing experts today!
Rack cards are just what the name says: front-to-back 4-color cards, 4″ x 9″, that are put in brochure holders or racks. A well-designed rack card is an invaluable and cost-effective marketing and advertising tool. Many industries and companies – for instance travel and tourism — benefit from using rack cards in their marketing programs. We specialize in rack card design and/or printing, and can also advise you on how to take advantage of this simple and easy product.
Canvas Size: 4 x 9
Minimum Resolution: 300 DPI
Color Format: CMYK
Build Black: 40C, 40M, 10Y, 100K
First create a new document and set it to the canvas size listed above. Your bleed area is 1/8th" from the edges. DO NOT add bleed, come in 1/8″ from your canvas size. Keep all type within safe area.