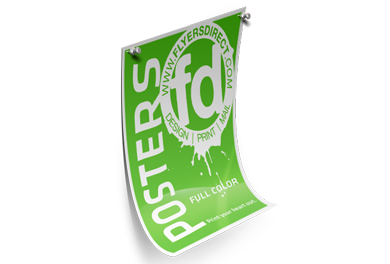 Premium 100# gloss text stock
Horizontal or vertical printing
Full bleed and photographic
Fast Turnaround
Flexible quantity options
Automated order processing and shipping
Nothing grabs attention like a beautiful full-color poster with sharp design and high quality printing. We print on a sturdy 100# gloss text stock, to guarantee that your product is substantial. And, as an industry leader in print technology, we utilize superior color poster printing techniques and services, while offering superior affordability. For special events, grand openings, parties, new products, commemorative gift items for anniversaries or company parties, office decor, or much more, full-color posters deliver an immediate message in an eye-pleasing way. Our stand-out design team loves designing posters and are ready to help.
Canvas Size: 11.25 x 17.25
Minimum Resolution: 300 DPI
Color Format: CMYK
Build Black: 40C, 40M, 10Y, 100K
First create a new document and set it to the canvas size listed above. Your bleed area is 1/4th" from the edges. Keep all type within safe area.