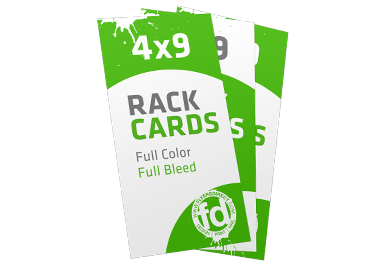 Premium 16 pt. Gloss Cover Stock (C2S)
Printed Full Color on BOTH sides
Horizontal or vertical printing
High Gloss UV (Ultra Varnish) coating on the front
Non UV back that is compatible with mailing houses\\
Full bleed and photographic
Fast Turnaround
Flexible quantity options
Automated order processing and shipping
Flexible quantity options starting at 1000 pieces
Delivering a powerful message fast: That's why you use custom postcards produced by us. Depending on how much information you want to deliver, your budget and how visible you want your postcard to be, you have a choice of using standard 4 x 6″ cards or larger 5.5 x 8.5″ cards.
These full-color printed pieces are low cost, inexpensive to mail and extremely versatile. They can be used for numerous purposes, including event promotions, gallery openings, concerts, parties, Save the Date notices, product launches and announcements, direct mail campaigns, and much more. A well-designed postcard can also brand your product or company. They are easy to handle and quick to read. Whether part of a direct mail project or distributed at locations, postcards deliver a glossy, focused and clear message. In addition, postcards offer a front and a back, allowing you two opportunities to provide information.
We specialize in high-impact postcard printing and can provide expert design services that will help make sure that your postcards demand and get attention.
Canvas Size: 4 x 9
Minimum Resolution: 300 DPI
Color Format: CMYK
Build Black: 40C, 40M, 10Y, 100K
First create a new document and set it to the canvas size listed above. Your bleed area is 1/8th" from the edges. DO NOT add bleed, come in 1/8″ from your canvas size. Keep all type within safe area.