8.5 x 11″ Letterhead
Custom Letterhead Printing in Tempe Arizona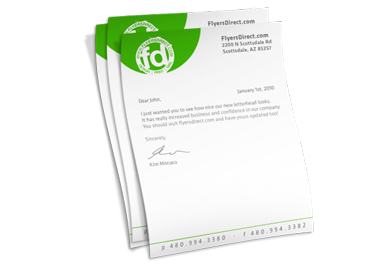 Premium 70# smooth offset stock
Standard 8.5×11″ format
Horizontal or vertical printing
Full bleed and photographic
Fast Turnaround
Flexible quantity options
Automated order processing and shipping
Letterhead is an important part of your identity and a staple in your office. It is a tool for communicating with clients, presenting ideas, invoicing, providing company information, and much more. Well-designed letterhead should cleanly and professionally present your company name, logo and contact information, while leaving ample open space for writing. Standard 8.5 x 11″ letterhead is often ordered and printed in conjunction with envelopes, but can be ordered separately.
Canvas Size: 8.75 x 11.25
Minimum Resolution: 300 DPI
Color Format: CMYK
Build Black: 40C, 40M, 10Y, 100K
First create a new document and set it to the canvas size listed above. Your bleed area is 1/4th" from the edges. Keep all type within safe area.