Standard #10 Envelopes – 4.125 x 9.5″
Completed quickly, accurately and professionally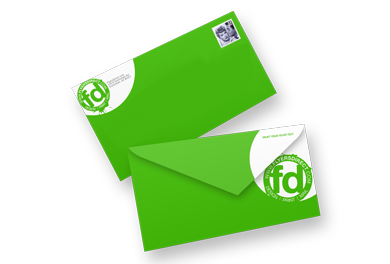 Premium 70# smooth offset stock
Fast Turnaround
Flexible quantity options
Automated order processing and shipping
Envelopes are like business cards: they present your company image to the world. They are often the first thing that anyone sees or reads about your company. Whether the envelope is used for letters, mailings, invoicing or other reasons, the importance of making a good first impression with your company envelope cannot be under-estimated.
We specialize in printing envelopes in a variety of styles and sizes, in full-color on one side. With special presses specifically for enveloping printing jobs, we can guarantee that your project will be completed quickly, accurately and professionally.
Canvas Size: 4.125 x 9.5
Minimum Resolution: 300 DPI
Color Format: CMYK
Build Black: 40C, 40M, 10Y, 100K
First create a new document and set it to the canvas size listed above. Your bleed area is 1/8th" from the edges. DO NOT add bleed, come in 1/8″ from your canvas size. Keep all type within safe area.