8.5 x 11″ 2-Part (NCR) Carbonless Forms
Invaluable and cost-effective Carbonless Forms Printing in Tempe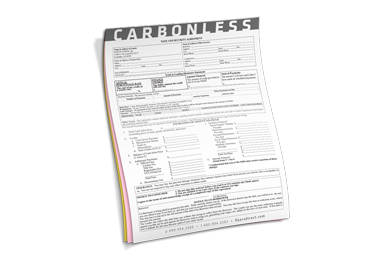 Printed single sided
Printed on premium carbonless paper
Standard 8.5×11″ format
Horizontal or vertical printing
Numbering is an available option
Paper Color: White, Yellow, Pink and Blue
Double Sided forms are available upon request
Turnaround in 2-3 business days
Sold in increments starting at 250
NCR Forms are an alternative to carbon paper used primarily to make a copy of an original, handwritten document without the use of any copying equipment. A well-designed NCR Form is an invaluable and cost-effective way to duplicate your company's forms, contracts, receipts and work orders. Many industries and companies, for instance HVAC, Plumbing, Contractors & Builders, Dentists, Window Treatment and Pest Control to name a few, benefit from using NCR Forms as part of their day to day operations.
Canvas Size: 8.75 x 11.25
Minimum Resolution: 300 DPI
Color Format: CMYK
Build Black: 40C, 40M, 10Y, 100K
First create a new document and set it to the canvas size listed above. Your bleed area is 1/4th" from the edges. Keep all type within safe area.