11 x 17″ Brochures
A leader in printing full-color brochures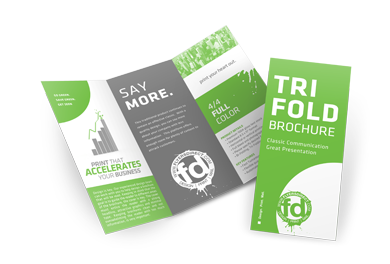 Premium 100# gloss text stock
11 x 17″ format
Printed on Recycled & Responsibly Harvested Paper
Horizontal or vertical printing
Full bleed and photographic
Please specify desired folding format
Bi-Folding, Tri-Folding or Z-Folding Included
Fast Turnaround
Flexible quantity options starting at 50
Automated order processing and shipping
Brochures reflect the solidity of a product, program or organization. They allow you to organize and present information in a printed collateral piece that readers will take away with them. They can be sent in envelopes, mailed by themselves or distributed in brochure racks. They present your message in a convenient and user-friendly size, and yet, because all of our custom brochures are printed on 100# Gloss Book Stock (C2S), they have perceived substance that impacts your reader. We believe that a high-end, quality brochure is one of the most fundamental pieces in most marketing programs. Why? They are versatile, informative, affordable and can be produced quickly.
Custom brochures can be produced in a variety of sizes, depending on your marketing needs, content and graphics, budget and mailing requirements. As a leader in full-color brochure printing, We can work with you to find your best and most affordable printing solution with fast turnaround guaranteed.
Flyers Direct in Tempe is a premier digital printer that specializes in printing 11 X 17 Folded Brochures. If you need custom Folded Brochures, contact our printing experts today!
Canvas Size: 11.25 x 17.25
Minimum Resolution: 300 DPI
Color Format: CMYK
Build Black: 40C, 40M, 10Y, 100K
First create a new document and set it to the canvas size listed above. Your bleed area is 1/4th" from the edges. Keep all type within safe area.