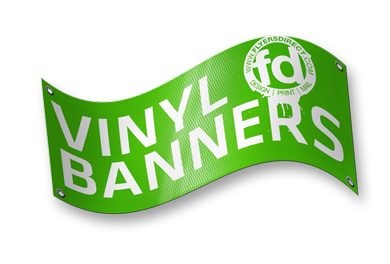 Durable Vinyl Banner Poly
Full Color Printing
Hem and Grommets Included
Flyersdirect.com offers vinyl banners that are durable, water resistant and stand up against the elements making them perfect for outdoor use. Vinyl banners are useful for advertising or to announce a grand opening or event. Recently moved locations? Help clients find you with a 'We have moved' banner. Vinyl Banners printed by flyersdirect.com include either grommets or pole pockets. Banners can be easily placed on a building, stage or event booth. Vinyl banners are great additions for your political campaign, holiday party or sporting event.
Minimum Resolution: 150 DPI Color Format: CMYK Build Black: 40C, 40M, 10Y, 100K First create a new document and set it to the canvas size listed above. Your bleed area is 1/8th" from the edges. DO NOT add bleed, come in 1/8" from your canvas size. Keep all type within safe area.